« Back to CIO 100 2013 RANKING
Fletcher Building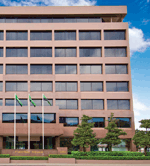 Senior IS Executive: Henry Boyden, Interim group CIO
Reports to: Gerry Bollman, Chief executive business strategy and performance
Size of IS shop: 250
Total screens: 21409

Industry: Manufacturing
Address: 810 Great South Road, Penrose, Auckland
Website: www.fletcherbuilding.com
Key IS projects this year: FBUnite, business transformation programme that includes a shared services initiative

Fletcher Building is Australasia's leading building products and construction materials manufacturer and distributor, and New Zealand's leading construction contractor through the Fletcher Construction Company.
Across five divisions, Fletcher Building operates more than 40 well recognised business units, including Dimond Roofing, Iplex Pipelines, The Laminex Group and PlaceMakers.
A Fletcher Building group-wide transformation programme, FBUnite, is currently underway and will review all facets of Fletcher Building's operations, including people and leadership, learning and development, innovation, operational excellence and digital.
The latter includes a shared services initiative to deliver a series of unified business toolsets across the FB Group.
With oversight of digital improvements, Henry Boyden has recently been appointed interim Fletcher Building Group CIO.
Boyden is defining an integrated strategy across the Fletcher Building group, aimed at greatly enhancing its digital capabilities to better serve customers, employees and shareholders, and to ensure the group's well-positioned in the rapidly developing digital era.
The company said enhancing its digital performance, both internally and externally, is one of the most important journeys Fletcher Building will embark on over the coming years.
Fletcher Building subsidiary Fletcher Construction is also a partner in the construction of highly sophisticated datacentres,
including Datacom's Kapua datacentre in Hamilton and its Auckland Orbit datacentre.
The organisation is poised for growth in 2013, with ICT budgets and project numbers up, with both expected to grow by more than 10 percent.
Get exclusive access to Invitation only events CIO, reports & analysis.
Sign up now »
Featured Whitepapers
Whilst offices are still one of our most powerful collaboration tools available, global collaboration requires us to communicate wherever we happen to be using a host of other tools. In ...
Most Popular Whitepapers
1

Finding a needle in a hay stack is hard, but the task pales in comparison to finding a ...